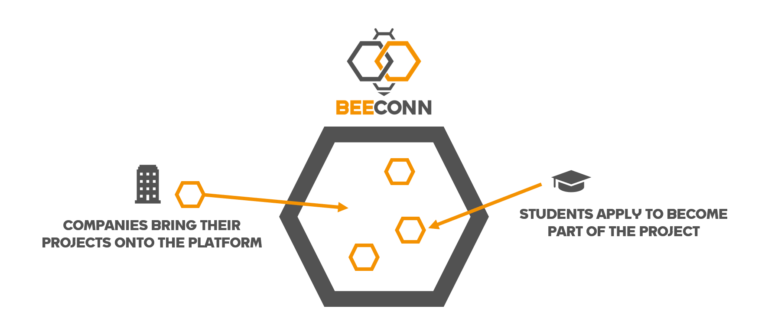 And this is how the platform works: Any company that identifies a need to examine selected topics in more detail, but does not have enough time in its day-to-day business, can submit this question to the portal. This is done in a few simple steps. The sender outlines the problem or task, the time frame and the requirements for the students. This could include that the candidate must already have experience in a subject area. After receipt of the topic, each submitter receives a confirmation of receipt. After that, BeeConn does the first review and, if necessary, consults with the sender to clarify further details or to refine the question a little. The project is then activated. Students from anywhere can apply to take on the work. If there are interested parties, the company receives a notification immediately.
For the pilot prototype of BeeConn, the team has decided to start with challenges. All those challenges will have a focus on different topics as "Sutainability" or "Digital Marketing". The partner companies will present their business cases in connection to the challenges.
Challenge – 10 x Company Business Case – Student Application
The period of the pilot will be 2 Batches. Each with a maximum of 3 challenges and 10 companies.
One has something to offer that another is looking for:
BeeConn has developed a platform that brings these two sides together in the simplest possible way.